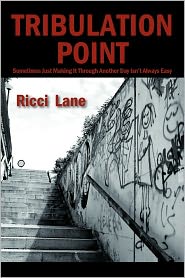 ReadingNook Rating: 4 out of 5 stars
Tribulation Point was such a heart-breaking story, that had me gripped from the first page, until the very last! I didn't know what to expect of this book because I hadn't heard anything about this book prior to reading it. This story is completely heartbreaking and eye-opening at the same time.
Jame's mother Precious was a result of a vicious attack on her mother, and was left abandoned at an Orphange, where she was constantly made fun of due to her mother being black and her rapist father being white, the kids all joked and called her half-and -half. She later has a son named James and although the father is non-exsistant, Precious does everything in her power to give James the life she never had. James learns that life isn't always easy, and infact it can be tragic and heartbreaking at times.
This story twists and turns with different emotions, i was happy, inspired, devastated, and enlightened all at once. Although predjudice is not something i've readily had to deal with in my generation. I know that people still have reservations when it comes to mixed couples, but the fact of the matter is, that it happens, people are free to fall in love with whomever they fall in love with, and it's sad that there are still people out there that think its wrong, and will do anything they can to keep different ethnicities seperated. I honestly feel like this is a book that anyone would enjoy, it's definitely adult in nature, but I think anyone, from any background would benefit greatly from this book.
I was contacted by the author to read and review this book, but all statements are my own thoughts and opinions, and I am not being componsated for this review.
Interview with Ricci Lane:
I was so thrilled to fulfill an invitation from Laura to post my inspiration for writing my new novel Tribulation Point: Sometimes Just Making It Through Another Day Isn't Always Easy. Laura is quite inspirational in her own right by doing such a fantastic job here on thereadingnook123
As a former public educator, in several inner-city schools, I became involved in the lives of many people, lives, and situations that touched my innermost emotions. Tribulation Point was born from first-hand experiences, stories told, present and past from the young and old, their lives touched by violence, deceit, disappointments, joy, and love. It is a reflection of how we all live in the same world; but have our own perception of what life means and how we perceive life should be for others. It was a novel that I felt had to be written.